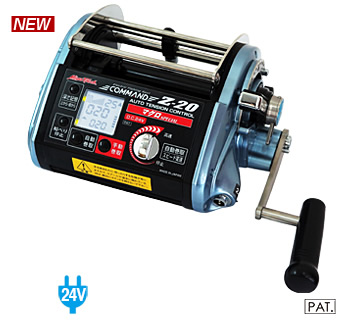 Exclusive model "TUNA SPECIAL" specialized in tuna fishing appears.
"TUNA SPECIAL," a special model specialized in tuna fishing, was added to the super big electric reel "Command Z-20 (24V)" (Patented), which gained the trust from not only general users but also professional fishermen. New appearance. Newly developed "carbon drag lining" and "special grease" that keep responding smoothly to carry out a bargain and response for a long time are adopted. It exerts its power even for 300kg class blue fin tuna, besides yellow fin tuna. Also, as the reduction gear was changed to stainless steel, the durability has improved. It is a specification that you can use with confidence in the big fight of a rare opportunity. Since this is a specification that emphasizes the drag performance and smoothness, it is unsuitable for fishing/target that require drag tolerance. Guard arm is optional (Yen 7,000). Convenient specification of gear ratio 1: 2.5 for take-up winding when taking in.



●Big fishing such as 300kg class blue fin tuna and yellow fin tuna

Part number
CZ-20 TUNA SPECIAL
Power supply
DC-24V
JAN (Japan Article Number) code (last 5 digits)
04146
Line winding volume
(No.-m)
NEW Deep sensor
PE Line #20-1,000m
PE Line #30-700m
Drag tolerance
40Kg-110kg
Instant maximum hoisting force
115kg
Maximum hoisting speed/when without load
120M/min.
Manual winding gear ratio
1:2.50
Manufacturer's list price of the body
Contact us for pricing
* The price indicates the manufacturer's list price only but does not include consumption tax.
* This specification may be changed for improvement without notice.