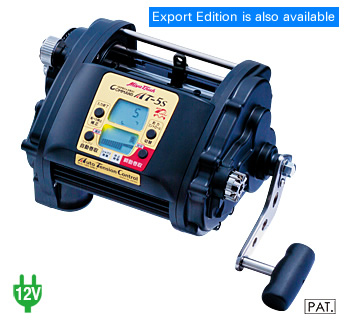 High power reel with hoisting power control function.
This product has further evolved from AT-3S. The black body having increase in amount of pincushion/hoisting force/ drag force and so tells the evolution. Moreover, we promise reliable winding by installing fishing force control function.



●Kimmedai (red bream)/Akodai (red rock fish) fishing
●Bluish-skinned fish fishing such as Buri (yellow tail)/Hiramasa (yellow tail amber jack) etc.
●Light Oyogasetsuri (bait-fishing) (Kanpachi (greater amber jack) )
●Light deep sea fishing (Kimmedai (red bream)/Kuromutsu (Black Japanese bluefish)/Akamutsu (black-throat seaperch)/Medai (Japanese butter fish)

Part number
AT-5S
Power supply
DC-12V
JAN (Japan Article Number) code (last 5 digits)
02722
Line winding volume
(No.-m)
NEW Deep sensor
PE LINE #5-1,100m
PE LINE #6-900m
PE LINE #8-700m
PE LINE #10-500m
PE LINE #12-400m
PE LINE #15-300m
PE LINE #20-200m
Maximum load of omission
#350
Drag tolerance
20.0kg-40.0kg
Instant maximum hoisting force
64kg
Sustained winding up force
20kg
Maximum hoisting speed/when without load
150M/min.
Manual winding gear ratio
1:1.92
Power consumption
2.6-15A
Operating temperature
-10℃-80℃
Backlash prevention method
-
Ball bearing
10 pieces
Reel self-weight
2.3kg
Electronic control
Hoisting force control
Stop at the bulwarks
Slow start・Slow stop
Stemless speed change
Danbiki-shakuri (Sink-and-draw motion for gradual bites)
Safety mechanism
+/- Reverse connection prevention、Overload stop control
Accessories
Handle、Power cord
Reel size (W×H×D mm)
250×150×120mm
Manufacturer's list price of the body
Contact us for pricing
* The price indicates the manufacturer's list price only but does not include consumption tax.
* This specification may be changed for improvement without notice.