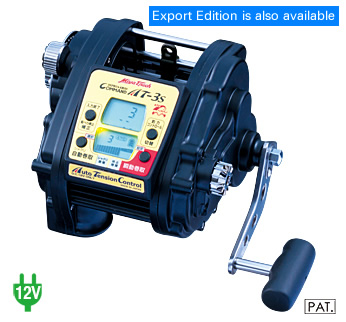 Fishing line spool amount is increased! PE Line #6: 700m. Amazingly high power with instant maximum winding force of 55kg!
With the fishing force control function, the reel senses the strength and weakness of line tension due to fish's bites and ship's sway, winding can be controlled in best conditions. You can set the step pull interval/pause time (but not possible to set up-down shakuri (sink-and-draw motion function). As we adopt the multi-plate type drag system, smoother sliding becomes possible. body is small, but with the installation of a large motor, high power of 55 kg of maximum instantaneous winding force is realized. Since the control lever was set on the left side of the main unit, it is possible to adjust the drag even at the time of winding with the hand steering wheel.
※ Note: AT-3S does not have the depth memory function.




●Bluish-skinned fish fishing such as Buri (yellow tail)/Hiramasa (yellow tail amber jack) etc.
●Light Oyogasetsuri (bait-fishing) of such as Kanpachi (greater amber jack)
●Light deep sea fishing (Kimmedai (red bream)/Ara (saw-edged perch)
●Deep sea fishing such as Onikasago (scorpion fish)/Okoze (stone fish)
●Okimebaru (sebastes thompsoniare)/Tara (codfish) fishing in Japan Sea Side

Part number
AT-3S
Power supply
DC-12V
JAN (Japan Article Number) code (last 5 digits)
02531
Line winding volume
(No.-m)
NEW Deep sensor
PE LINE #4-900m
PE LINE #5-800m
PE LINE #6-700m
PE LINE #8-550m
PE LINE #10-450m
PE LINE #12-350m
Maximum load of omission
#300
Drag tolerance
20kg-40kg
Instant maximum hoisting force
55kg
Sustained winding up force
16kg
Maximum hoisting speed/when without load
10-150M/min.
Manual winding gear ratio
1:1.92
Power consumption
1.4-20A
Operating temperature
-10℃-80℃
Ball bearing
10 pieces
Reel self-weight
2.1kg
Electronic control
Hoisting force control ON-OFF change switching
Danbiki-shakuri (Sink-and-draw motion for gradual bites)、Stop at the bulwarks
Slow start・Slow stop
Stemless speed change(Pause・Extremely low speed~Maximum speed)
Safety mechanism
+/- Reverse connection prevention、Overload stop control
Accessories
Handle、Power cord
Reel size (W×H×D mm)
215×150×120mm
Manufacturer's list price of the body
Contact us for pricing
* The price indicates the manufacturer's list price only but does not include consumption tax.
* This specification may be changed for improvement without notice.