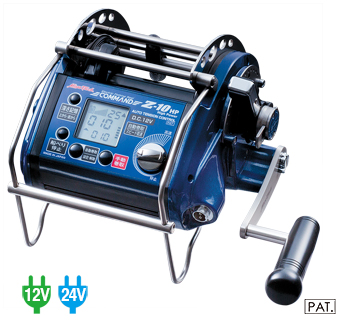 As a higher model of CZ-9, the CZ-10 HP (high power) with a new type of motor is newly introduced
Miya Epoch "Command Z-9" which is a synonym of a big electric reel. Command Z-10 SP (Hi power) is newly released as its high-end model. Equipped with a new motor stuck to hoisting power. It does not let the angler feel stressed as it makes surprisingly smooth roll-up in heavy-duty deep sea fishing equipped with "instantaneous maximum winding force" and "sustained winding force" that are comparable to "Command Z-20" which overcomes blue fin tuna of 400kg. Also, it is possible to switch-over to "fighting mode" which automatically controls the interaction with the fish, and releases "Fishing force control (Patented)" which reduces the burden on the motor, and draws out the power of the motor to the maximum limit. It will demonstrate its power in the battle with the monster around the roots, such as Hata (grouper) and Kanpachi (greater amber jack), where the winding just after the hit will decide the game. In addition, it has many convenient functions corresponding to deep sea fishing and big fishing such as "drag assist lever" which makes drag adjustment easier, "click type sound brake system" for preventing the backlash. The body is a dark blue metallic paint that gives a sense of quality in a chic hue.Miya Epoch's original "24V specification" that demonstrates the powerfulness is also available in the lineup.


Part number
CZ-10HP
Power supply
DC-12V
DC-24V
JAN (Japan Article Number) code (last 5 digits)
04412
04429
Line winding volume
(No.-m)
NEW Deep sensor
PE LINE #10-1,600m
PE LINE #12-1,400m
PE LINE #15-900m
PE LINE #20-800m
PE LINE #30-500m
Drag tolerance
40Kg-110kg
Instant maximum hoisting force
110kg
115kg
Maximum hoisting speed/when without load
90M/min.
Ball bearing
10 pieces
Manufacturer's list price of the body
Contact us for pricing
Contact us for pricing
* The price indicates the manufacturer's list price only but does not include consumption tax.
* This specification may be changed for improvement without notice.