CZ-20 TUNA SPECIAL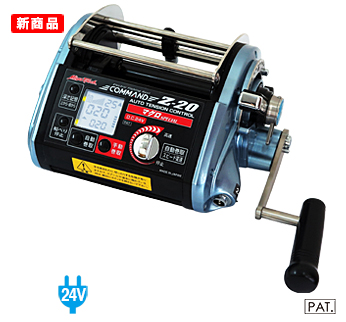 Exclusive model "TUNA SPECIAL" specialized in tuna fishing appears.

"TUNA SPECIAL," a special model specialized in tuna fishing, was added to the super big electric reel "Command Z-20 (24V)" (Patented), which gained the trust from not only general users but also professional fishermen. New appearance. Newly developed "carbon drag lining" and "special grease" that keep responding smoothly to carry out a bargain and response for a long time are adopted. It exerts its power even for 300kg class blue fin tuna, besides yellow fin tuna. Also, as the reduction gear was changed to stainless steel, the durability has improved. It is a specification that you can use with confidence in the big fight of a rare opportunity. Since this is a specification that emphasizes the drag performance and smoothness, it is unsuitable for fishing/target that require drag tolerance. Guard arm is optional (Yen 7,000). Convenient specification of gear ratio 1: 2.5 for take-up winding when taking in.
Target fish(Target fishing)
●Big fishing such as 300kg class blue fin tuna and yellow fin tuna
Specification
* The price indicates the manufacturer's list price only but does not include consumption tax.
* This specification may be changed for improvement without notice.
Part number
CZ-20 TUNA SPECIAL
Power supply
DC-24V
JAN (Japan Article Number) code (last 5 digits)
04146
Line winding volume
(No.-m)
NEW Deep sensor
PE Line #20-1,000m
PE Line #30-700m
Drag tolerance
40Kg-110kg
Instant maximum hoisting force
115kg
Maximum hoisting speed/when without load
120M/min.
Manual winding gear ratio
1:2.50
Manufacturer's list price of the body
Contact us for pricing
Explanation of the function icons
- Hoisting force control [Patented]

This will automatically control the hoisting speed in response to hit fish pulling.

- Drag assist lever

Drag assist lever mounting type with excellent operability compared with ordinary drag knob.

- Depth memory

By setting/storing memory of arbitrary shelf, it can automatically stop at the shelf at the next throwing.

- Big Power Handle

A big handle is mounted on the power handle. It is effective for assistance at big fight.

- Power Handle

Strength increased with the increase of the wall thickness. Grip is also easy to grasp,assist at steering wheel has become more effective.

- One-touch free handle

A handle mounting a one-touch free mechanism that prevents reverse rotation of the handle during"Automatic delivery" operation.

- Sound brake system

A system that applies a slight brake to the spool and prevents backlash.

- Click sound brake system

In addition to the normal sound brake function, it informs of the hit by the loud volume click sound.

- High speed automatic winding function

By pressing and holding the automatic winding switch for a long time, wind up at the highest speed to the stop position at the bulwarks.

- Automatic Shakuri (sink-and-draw motion) function

Automatic Shakuri (sink-and-draw motion) and dropping function within an arbitrary range. By repeating sink-and-draw motion it attracts hits.

- Danbiki-shakuri (step pull and sink-and-draw motion) function

Start an arbitrary Shakuri (sink-and-draw motion) with one switch. Automatic winding up to the stop position at the bulwarks after finishing of Shakuri (sink-and-draw motion).

- Guard arm

Guard arm is equipped to prevent scratches on the body due to contact as standard.

- Automatic delivery

The spool will be reversed with one switch and delivers the line. It is effective when aiming for additional bites.

- Chum winding up

It scatters chum with high speed Shakuri (sink-and-draw motion) from any shelf and attracts the target. Automatically winds up to the stop position at the bulwarks after a certain period of inactivity.

- CE mark

CE marking indicates that the product conforms to the essential requirements specified in the EU directive and regulations by sector. In addition, "Self-Certification" conforming to CE marking is posted on our website.