AT-5S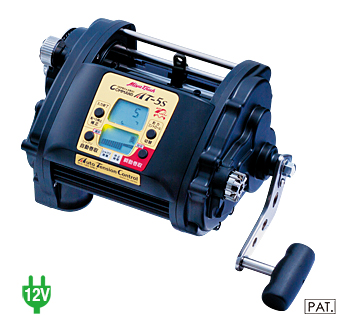 The instant maximum hoisting force of 64 kg is enough power for big games. It is the appearance of a new color.

Operating margin power even for Kimmedai (red bream)/Akodai (red rock fish) fishing with an instantaneous maximum winding force of 64 kg. By sub motor installation, subtle drag adjustment and clutch ON/OFF are made possible with switch operation. Drag is effective even if a big game hits in the stop state of the shelf with the shakuri (sink-and-draw motion) function which can be set arbitrarily. Equipped with a fishing force control function that adjusts winding up by an electric reel. Multi plate type drag system which can also finely adjust the drag.
Danbiki-shakuri function
At-5s liquid crystal screen display
Target fish(Target fishing)
●Kimmedai (red bream)/Akodai (red rock fish) fishing
●Bluish-skinned fish fishing such as Buri (yellow tail)/Hiramasa (yellow tail amber jack) etc.
●Light Oyogasetsuri (bait-fishing) (Kanpachi (greater amber jack) )
●Light deep sea fishing (Kimmedai (red bream)/Kuromutsu (Black Japanese bluefish)/Akamutsu (black-throat seaperch)/Medai (Japanese butter fish)
Specification
* The price indicates the manufacturer's list price only but does not include consumption tax.
* This specification may be changed for improvement without notice.
Part number
AT-5S
Power supply
DC-12V
JAN (Japan Article Number) code (last 5 digits)
02722
Line winding volume
(No.-m)
NEW Deep sensor
PE LINE #5-1,100m
PE LINE #6-900m
PE LINE #8-700m
PE LINE #10-500m
PE LINE #12-400m
PE LINE #15-300m
PE LINE #20-200m
Maximum load of omission
#350
Drag tolerance
20.0kg-40.0kg
Instant maximum hoisting force
64kg
Sustained winding up force
20kg
Maximum hoisting speed/when without load
150M/min.
Manual winding gear ratio
1:1.92
Power consumption
2.6-15A
Operating temperature
-10℃-80℃
Backlash prevention method
-
Ball bearing
10 pieces
Reel self-weight
2.3kg
Electronic control
Hoisting force control
Stop at the bulwarks
Slow start・Slow stop
Stemless speed change
Danbiki-shakuri (Sink-and-draw motion for gradual bites)
Safety mechanism
+/- Reverse connection prevention、Overload stop control
Accessories
Handle、Power cord
Reel size (W×H×D mm)
250×150×120mm
Manufacturer's list price of the body
Contact us for pricing
Explanation of the function icons
- Hoisting force control [Patented]

This will automatically control the hoisting speed in response to hit fish pulling.

- Drag assist lever

Drag assist lever mounting type with excellent operability compared with ordinary drag knob.

- Depth memory

By setting/storing memory of arbitrary shelf, it can automatically stop at the shelf at the next throwing.

- Big Power Handle

A big handle is mounted on the power handle. It is effective for assistance at big fight.

- Power Handle

Strength increased with the increase of the wall thickness. Grip is also easy to grasp,assist at steering wheel has become more effective.

- One-touch free handle

A handle mounting a one-touch free mechanism that prevents reverse rotation of the handle during"Automatic delivery" operation.

- Sound brake system

A system that applies a slight brake to the spool and prevents backlash.

- Click sound brake system

In addition to the normal sound brake function, it informs of the hit by the loud volume click sound.

- High speed automatic winding function

By pressing and holding the automatic winding switch for a long time, wind up at the highest speed to the stop position at the bulwarks.

- Automatic Shakuri (sink-and-draw motion) function

Automatic Shakuri (sink-and-draw motion) and dropping function within an arbitrary range. By repeating sink-and-draw motion it attracts hits.

- Danbiki-shakuri (step pull and sink-and-draw motion) function

Start an arbitrary Shakuri (sink-and-draw motion) with one switch. Automatic winding up to the stop position at the bulwarks after finishing of Shakuri (sink-and-draw motion).

- Guard arm

Guard arm is equipped to prevent scratches on the body due to contact as standard.

- Automatic delivery

The spool will be reversed with one switch and delivers the line. It is effective when aiming for additional bites.

- Chum winding up

It scatters chum with high speed Shakuri (sink-and-draw motion) from any shelf and attracts the target. Automatically winds up to the stop position at the bulwarks after a certain period of inactivity.

- CE mark

CE marking indicates that the product conforms to the essential requirements specified in the EU directive and regulations by sector. In addition, "Self-Certification" conforming to CE marking is posted on our website.